Regular consumers of 3D printing news may recall that Creality recently announced that they would be releasing a Klipper-integrated tablet, promising plug-and-play Klipper functionality to desktop 3D printer users.
That tablet is named the Creality Sonic Pad, Now available locally in Australia:  https://store.dremc.com.au/products/creality-sonic-pad-klipper-display-conrtoller-touch-screen
Supported Printer List: https://support.dremc.com.au/support/solutions/articles/51000321087-creality-sonic-pad
Read on to know more about how this gizmo can level up your 3D Printer.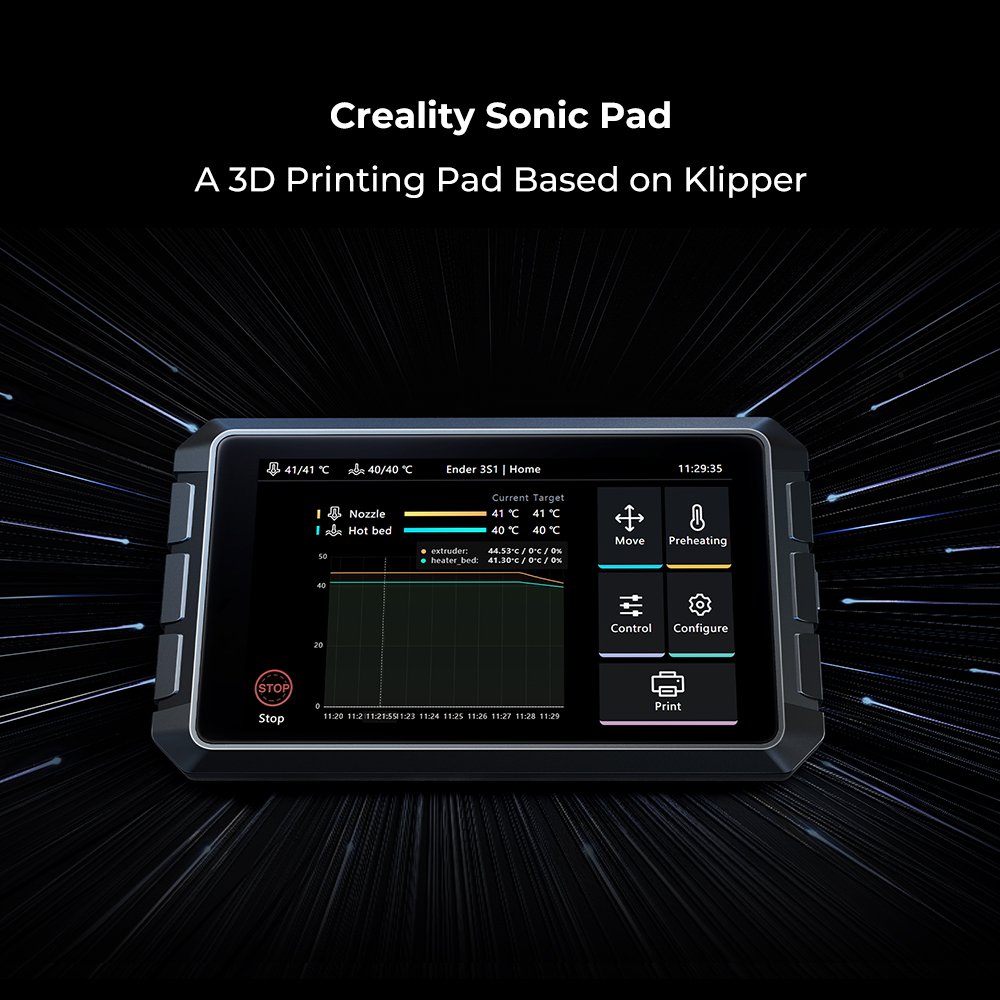 Creality Sonic Pad
The Creality Sonic Pad is the first-ever smart tablet on the market that has fully integrated the Klipper firmware to give users a powerful and smooth FDM 3D printing experience.
The open-source Klipper firmware for 3D printers has been the choice of many seeking better print quality and higher printing speeds.
To cater to those Klipper fans, Creality will launch the Creality Sonic Pad next week to provide users with a full range of Klipper features and an intuitive installation process. The smart gadget is compatible with most FDM 3D printers at an affordable price, offering "plug-and-play" Klipper solutions to 3D printing beginners and DIY lovers.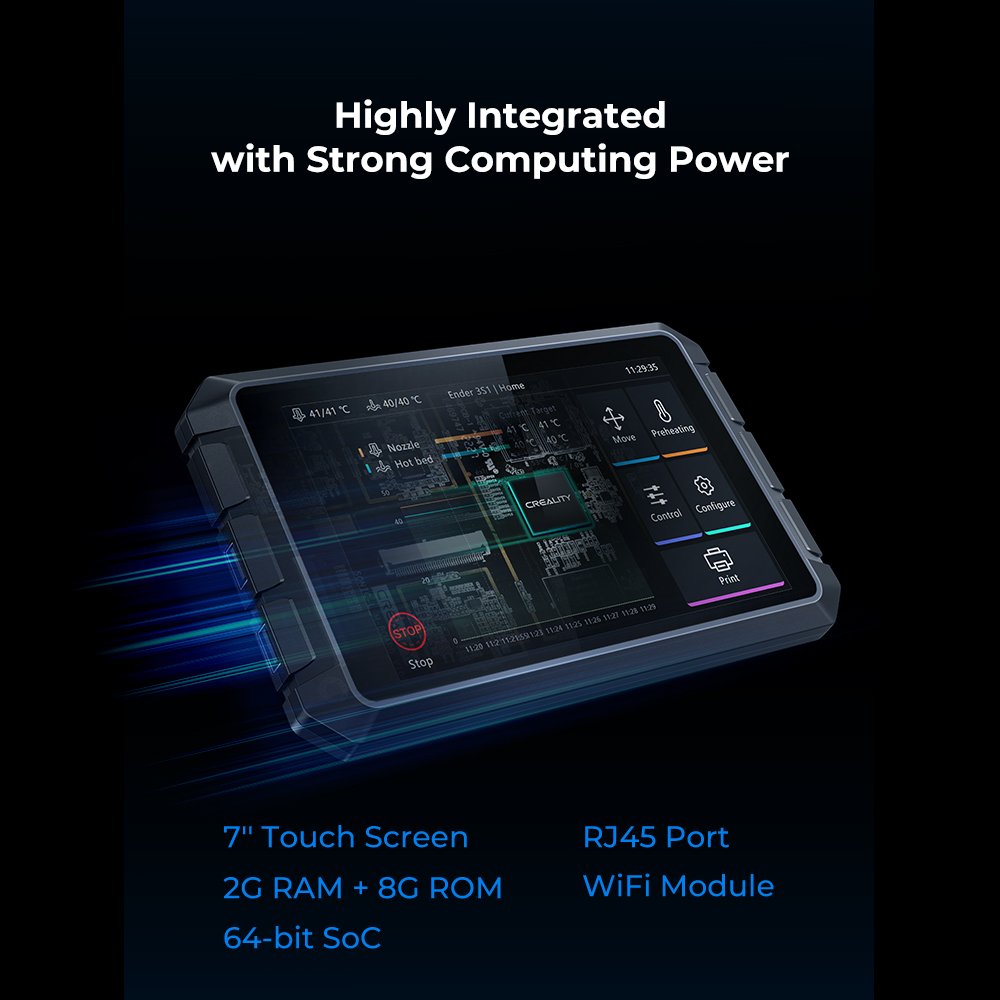 Specs
Powered by a 64-bit CPU and mainboard, the Creality Sonic Pad is a 7-inch color touch screen that unlocks strong computing capability.
Carrying 2Gb RAM and 8Gb ROM, the Sonic Pad has four USB ports, meaning that users may be able to connect up to four units after the release of Creality's related OTA patch. It also includes one RJ45 Ethernet port and one WiFi module, enabling remote control of printers. A camera module which users can buy separately with the tablet is available for real-time monitoring and time-lapse photography, unleashing more creativity.
Powerful compatibility
Klipper's complex installation process has been a pain point that hinders many 3D printing beginners from trying out this powerful firmware. The Creality Sonic Pad can connect to almost any FDM 3D printer available on the market via a USB cable. It is pre-configured configs for Ender-3 V2, Ender-3 S1 and Ender-3 S1 Pro for smooth and quick installation. For other Creality 3D printers and non-Creality ones, a detailed configuration manual is included or Klipper github have example configuration: https://github.com/Klipper3d/klipper/tree/master/config
To keep pace with the fast-evolving Klipper firmware, the Sonic Pad can be upgraded via either OTA or a USB stick enabling users to get the latest Klipper features at the earliest time.
Sonic Pad will also follow the rule of the Open Source community and make all the source code public. Users are free to modify and customize and make their Sonic Pad unique and more powerful. Source: https://github.com/CrealityOfficial/Creality_Sonic_Pad_Project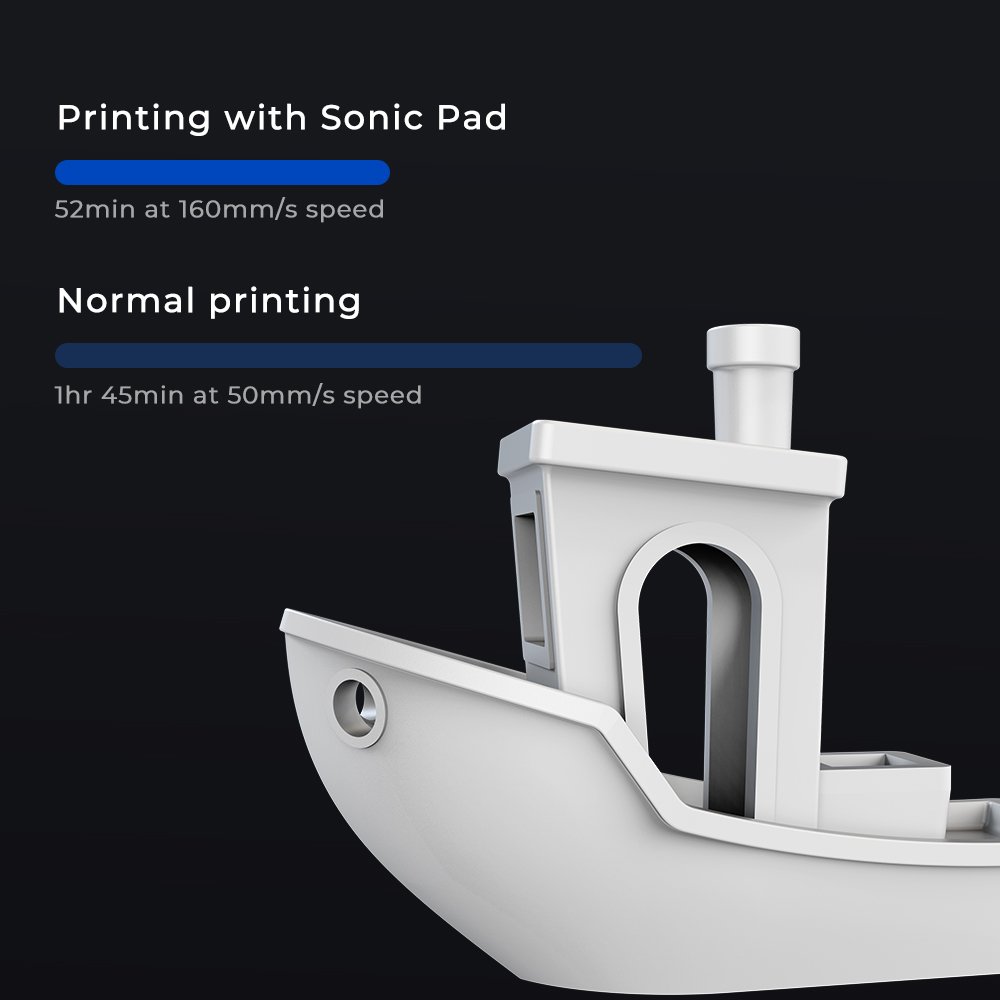 Integrated Klipper features
The Creality Sonic Pad provides users with a full suite of Klipper's unique features including high print quality and speed, resonance compensation (input shaping), pressure/linear advance and flexible macros.
Klipper was first developed to utilize additional computing power to assist the 3D printer mainboard in processing commands, allowing users to print faster and more precisely. The built-in input shaping function will cancel out ringing issues and other repeating artifacts by using an accelerometer attached to the print head, thus enhancing print quality. Its pressure advance algorithm is also accurate and easy to work with.
The Sonic Pad supports user-defined programmable macros, with each macro combining a series of commands together for a personalized function. It efficiently realizes features such as nozzle heating, PID tuning and homing with simple commands.